Mobi Equity Programs Evaluation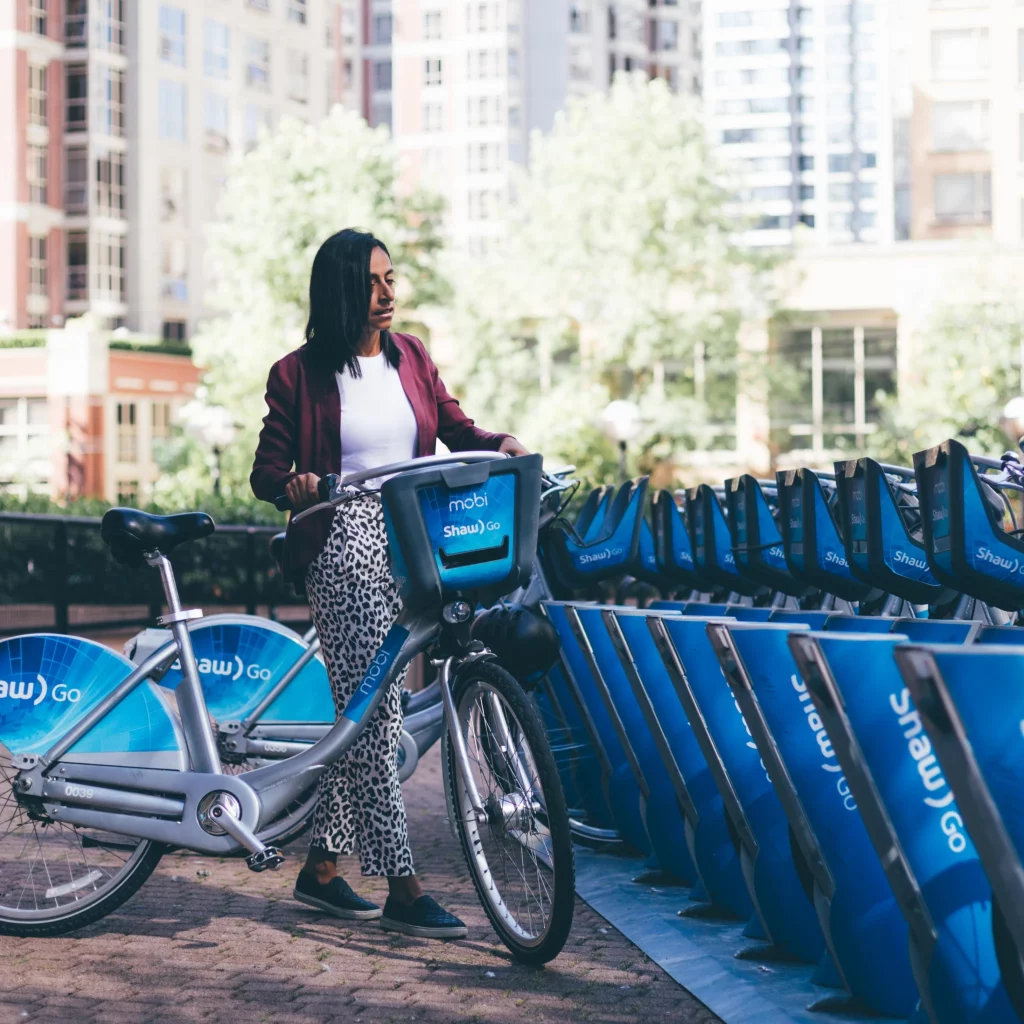 Moving towards equitable bike sharing: Evaluating the impacts of Mobi's equity program on access and use of public bike share in Vancouver.
Background
Vancouver launched its public bike share program, Mobi by Shaw Go (Mobi), in 2016. The overall goal of Vancouver's public bike share program is to create a system that is convenient for people to use for their daily trips and needs. From 2013-2018, the City of Vancouver and SFU's CHATR lab partnered to evaluate uptake of Vancouver's public bike share program and impacts on cycling. Recent research coming out of that work can be found here.
Since this time, the City of Vancouver and Mobi have implemented numerous changes to reduce barriers, enhance uptake, and make the system more equitable. The specific changes include:
Expanding the service area to more neighbourhoods
Reducing rider eligibility from 16 to 12 years to reach younger residents
Implementing the Community Pass program to provide a low cost pass option for eligible residents
Adding e-bikes to the system.
Research goals and objectives
The City of Vancouver approached Mobilizing Justice to evaluate the extent to which these initiatives have resulted in more equitable uptake of bike share in Vancouver. The three specific objectives are to:
Conduct a socio-spatial analysis to determine if the equity in spatial access has improved since 2018;
Conduct a linkage of survey data and trip data to assess how the equity initiatives have independently and in combination impacted a) usage and b) access to opportunities, for all members, and for members who face transportation-related challenges; and
Conduct a series of interviews to explore the experiences of service providers and participants of the Community Pass program, to better understand the facilitators and barriers to the success of the program.
Objective 1: Socio-spatial analysis of the expansion of stations since 2018
This work will build off our past analysis on equity in spatial access to bike share across 5 Canadian cities by pilot lead Meghan Winters. The current analysis will evaluate whether the new stations added since 2018 has resulted equitable distribution of stations across neighbourhoods.
Objective 2: Demographic analysis of Mobi membership and usage behaviours
This work will build off our past analyses of demographic profiles of members, overall and for super-users. This updated analysis will look at overall trends in membership and usage across different population groups.
Objective 3: Interviews with service providers and equity program members
We also propose to do a series of interviews with people who deliver equity programs & people who receive them. This will allow us a richer understanding of the experiences of people who are equity program members, or the experiences of staff (both at Mobi and at partner organizations) who have been connecting with people who could potentially benefit from public bike share programs.
Timelines: January-December 2023
Participating Partners
Cail Smith, City of Vancouver
Robert Pennings, City of Vancouver
Matej Mecar, City of Vancouver
Taylor MacVittie, Mobi by Shaw Go
Mia Kahout, Mobi by Shaw Go
Meghan Winters, Simon Fraser University
Kate Hosford, Simon Fraser University
Christine Yanagawa, Simon Fraser University