The Easy Riders project is a program operated by Better Environmentally Sound Transportation (BEST), a non-profit organization dedicated to advancing environmental justice in British Columbia. BEST has a program called Seniors on the Move (SOTM) co-managed with United Way BC, further highlighting its commitment to promoting sustainable transportation solutions that benefit both individuals and the wider community, especially seniors. Through the Easy Riders project, BEST worked with B.C. Transit and Seniors Serving Seniors to give older adults the opportunity to learn how to ride the bus, including with a mobility device. I interviewed BEST staffer Sasha Rodriguez about Easy Riders and why it is important to help seniors get comfortable with using public transit. Our conversation, transcribed below, has been edited for clarity.
What is the primary barrier to senior mobility that the Easy Riders project sought to address?
Not enough seniors in B.C. have accessible transportation. Because we do not have enough accessible transit that seniors can actually use, a lot of seniors are missing out. They are missing out not only on things that they need on the day to day like medications and groceries, but also on their ability to participate fully in community life. For example, because there isn't accessible transportation in place, seniors may be forced to pay for a taxi for certain trips, like medical appointments. But they may not be able to afford that taxi. We used to have Greyhound, but that doesn't exist anymore. And even when we had that, seniors in rural areas would have to travel over two days due to the schedules, and even stay in hotels near their appointments, so that they could make their appointments.
What is Easy Riders?
Easy Riders is a series of workshops, funded through the Government of Canada's New Horizons for Seniors grant, ran in Victoria, B.C. based on a senior-centered approach. An invitation went out to any seniors who wanted to learn or re-learn how to take the bus and become transportation independent in the City of Victoria. The seniors attended four workshops focusing on practical skills that enabled them to be less dependent on the automobile, and more independent as a bus rider. The first workshop focused just on getting to know people and their needs, and for people to get to know each other. After that, we adjusted the remaining workshops according to the seniors' needs and preferences.
Our goal was to ensure they would learn everything they needed to confidently ride the bus. This meant answering questions like how do I get on and off the bus? How do I ask the bus driver to put the ramp down? Where can I buy tickets? The workshops included a bus operator from BC Transit, which was great because she could answer the participants' questions directly.
One of the things that was really important for us was to teach seniors how to do trip planning, either through Ipads or through reading the Victoria Rider's Guide, which tells you the bus schedule and maps. The seniors could choose which way they wanted to learn, and figure out how to get from point A to point B. We found a lot of seniors were willing to learn with the ipad, they just needed someone to guide them through step by step on how to do it.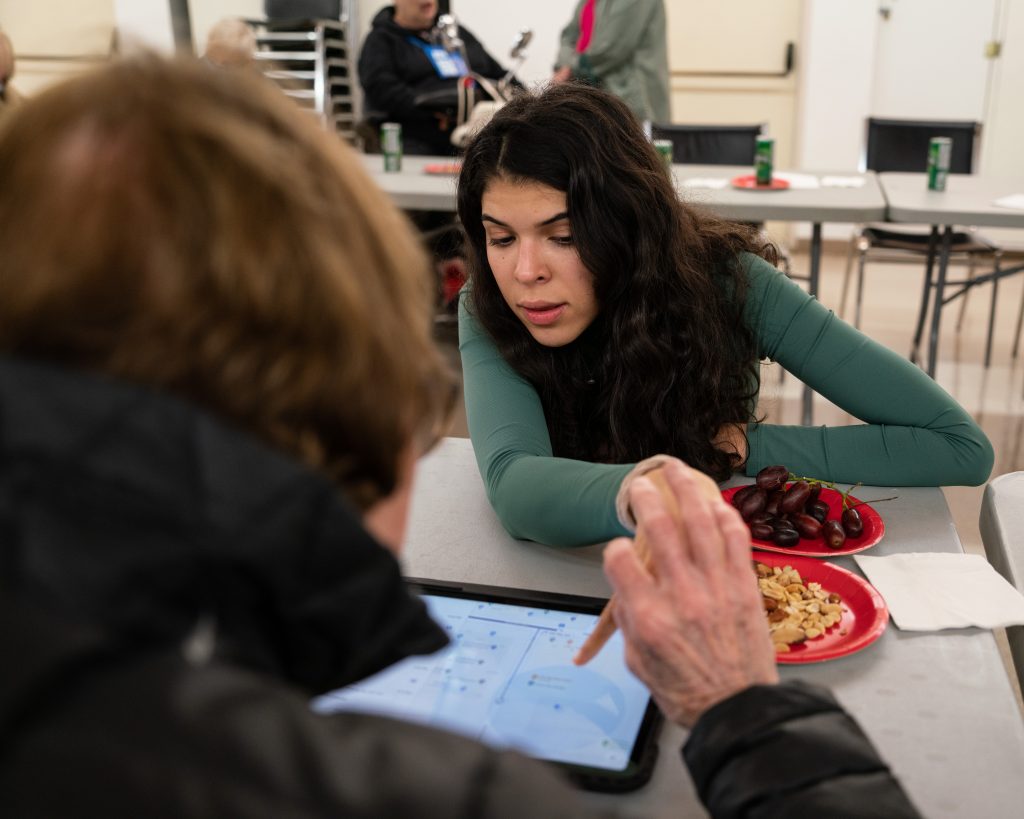 We also had a bus on site, so we allocated some time in the workshop for seniors to get some practice getting on and off the bus with their mobility aids. A lot of potential riders don't feel confident. They feel scared and say things like "Oh what if I hold up the bus, and I'm going to be too slow getting on and off" with a mobility device. So becoming familiarized with the process–with how the ramps go up and down, was good for the riders.
We emphasized riders being vocal about their needs when they ride the bus. They just needed to hear from an operator that they can do that. So now they are more encouraged to say things to the bus driver like, 'I gotta sit down and lock my wheelchair before the bus starts running."
We also gave people a free pass for the next day to all go somewhere together.The purpose of the excursion was to provide seniors with a hands-on opportunity to apply the skills they learned during the workshop. Participants were offered a variety of destinations to choose from, including the option to transfer buses or ride a single bus to their final destination. The excursion lasted between one to two hours and included complimentary refreshments, as well as a day bus pass.
In addition to the practical benefits, the excursion also provided seniors with an invaluable opportunity to connect and engage with like-minded individuals who were also seeking to improve their proficiency in navigating the bus system. This sense of community and mutual support proved to be a significant advantage for seniors, as it helped to increase their confidence and provided them with the skills they needed to access the various resources and services available to them through public transportation.
What are some of the senior-specific needs that came up in the workshop that you would say transit planners and operators need to pay more attention to?
Sidewalks. When you think about the multimodal senior, a senior that either walks or scoots around, being able to ride the bus, they need to be able to walk to the stop. The stop needs to be accessible for them. Maybe for you or I a small dent in the sidewalk is something we can just go around. But for seniors, especially those in a wheelchair, it can be hard. In Victoria, not all the bus stops are accessible. So riders have to find a stop with a stop sign that has a little wheelchair sign to indicate that it is an accessible stop. So seniors in wheelchairs have to travel further from their homes sometimes to ride the bus.
We also really need to start this conversation earlier, long before people hang up their car keys. If you start the process of teaching people how to ride the bus earlier, before they have to give up driving, you are helping them in a process of staying healthier, while also getting antiquated with the transit system. We need to start talking to people who are 60, 50, even 45, because they are going to have to start transitioning to other modes of transportation later in life anyways, why not encourage the process now. Even just once a week to get familiarized with the system. That's something I think about a lot.
What was the impact of Easy Riders?
One participant comes to mind. She has a scooter and cannot walk, and she has been trying to take the bus for years, but nobody really helped her. So when she saw the program, she took it as an opportunity and thought, oh, I can learn how to use the bus and just go places I've been wanting to go to and do things that I can't currently do. Sometimes people just need that extra step for them to feel comfortable using the bus. So she came to the workshop, and she did the excursion. It was her first time going up and down on the bus with her scooter, and it was just amazing to have that support system there for that. A lot of times seniors just need that support to feel comfortable the first time, and then they can do it on their own.
It was amazing to see how seniors were motivated to learn and to use different modes of transportation. Many people asked us "when are you coming back again? Can I come next time? Can we do this once a week?"
We are very grateful with the Government of Canada's New Horizons program for the funding and hope to get more grants and donations in 2023 that will allow us to expand and replicate this project in more municipalities.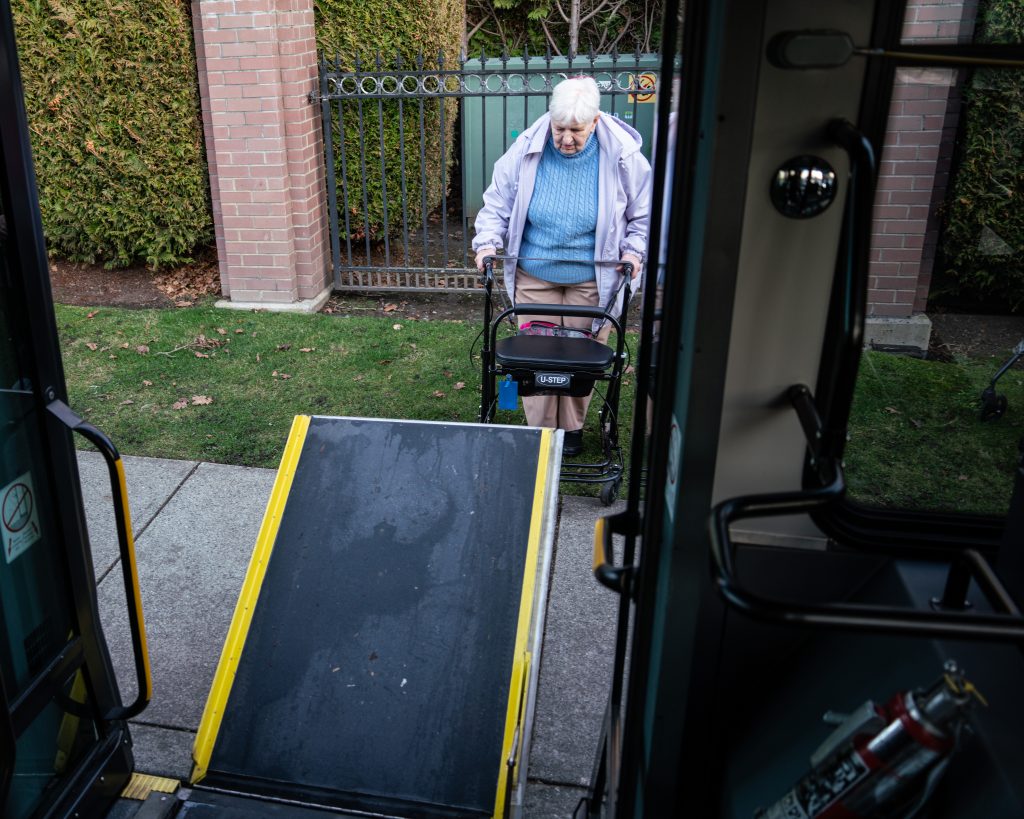 What made Easy Riders work?
It was important to have a strong partner to collaborate with. We partnered with Seniors Serving Seniors in Victoria. That was a big one. They have many programs serving seniors in Victoria. We looked for an anchor point in the community that we could work with, because we are based in Vancouver. It is great to collaborate with someone who knows the intended audience–the intended community.
The second key thing was of course funding. BEST is a registered charitable non-profitand everything we do is because of available funding. We are always applying for grants and seeking donations to accomplish the next program we have in mind.
Third, I would say it is important to have a good plan in place, and think through your goals: What are your objectives? Who are you helping with your intended audience? How could you keep the program going? Are we building connections and partnerships with institutions or groups who could help us make this sustainable?
How important was it having seniors at the table in designing this program?
Every senior project we initiate is first run by our senior advisory committee. I think right now there's maybe 8 to 10 people from across the province and they get together every two months, and they assess what we are doing and how we are doing it. A part of our goal is to do everything through the seniors' lens. If we don't have the seniors' voices guiding us, we really wouldn't know what to focus on. Of course we can see things, but seniors experience things that we don't see.

Please visit www.best.bc.ca/donate to support this and other mobility justice programs in British Columbia.